My favorite shades for the party season!
I never get bored of MAC eyeshadows; MAC has a fantastic selection of shades, textures, and finishes. I'm sure these shadows are old favorites to those who been using MAC Cosmetics for years but if you're a newbie and love eyeshadow this will help you create a starter kit. I warn you, there's a whole lot of purple.
Cranberry (Frost) this shadow is beautiful all year long. MAC describes this as a Red–plum with pink shimmer. Cranberry can look a little scary in the pan but I promise it's absolutely gorgeous and flattering on all skin tones. A little bit goes a long way with this shade. It's stunning!
Trax (Velvet) Trax is a burgundy-plum with shimmer. It's pretty light purple with gold flex. I wish it had had more pigmentation but the shimmer is lovely. I think this would look so beautiful on green eyes.
Swatches
Nocturnelle (Frost) This is one of my top 5 favorite MAC shadows. Nocturnal is my go to purple; I love using this for a Smokey eye. It's super pigmented and has a beautiful finish. I love it using it my lash line and blending it out, it creates the most beautiful effect. You brown-eyed girls need this in your life.
Star Violet (Veluxe Pearl) At first glance I thought Star Violet looked a lot like Cranberry but Cranberry pulls redder while Star Violet is more of a pinkish purple. Do you absolutely need both? No, but there is a difference. In terms of the finish, I prefer Star Violet to Cranberry. It's such an eye-catching shade.
Shadowy Lady (Matte) According to MAC this is a blackened plum shade. It's dark, rich and highly pigmented. I love using this to deepen my outer corner as well as a liner. I prefer this to black shadow for intensifying the lash line because this gives a very subtle pop of color without looking intense or heavy.
Twinks (Veluxe Pearl) this is such an odd shade to describe. According to MAC, this is a deep plum with pearl. It looks more of a shimmery red-brown on the pan but on my eyes, it pulls much more purple. There's definitely a hint of plum but it's subtle. It's beautiful on the crease, blends beautifully and the color payoff is phenomenal.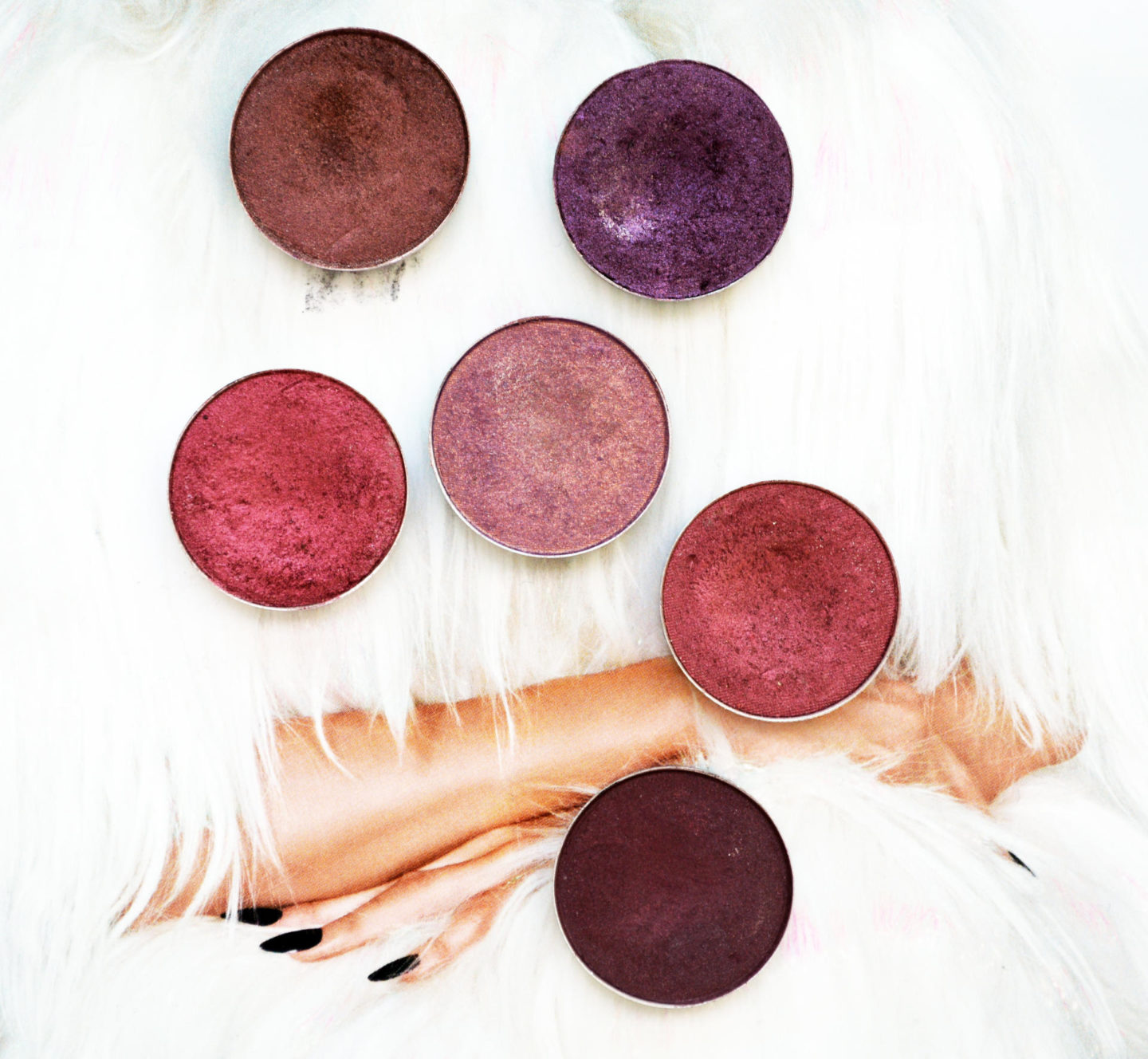 Happy Christmas Everyone!