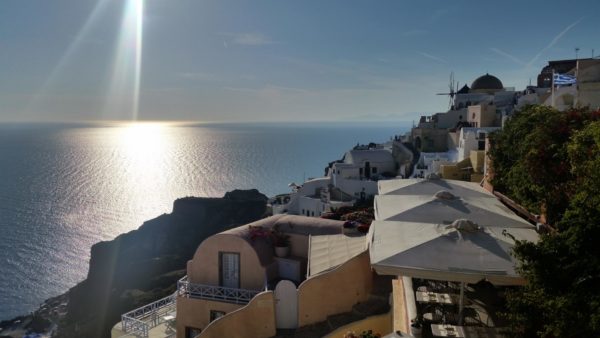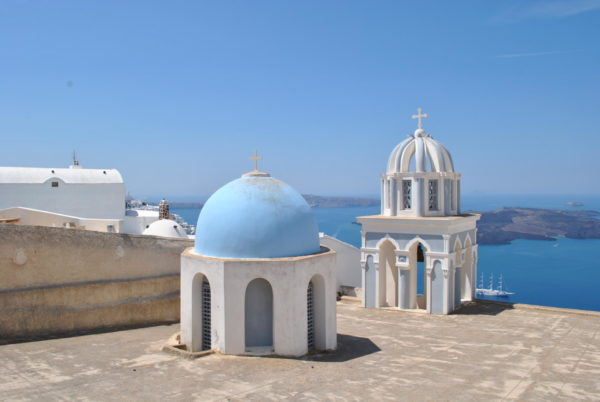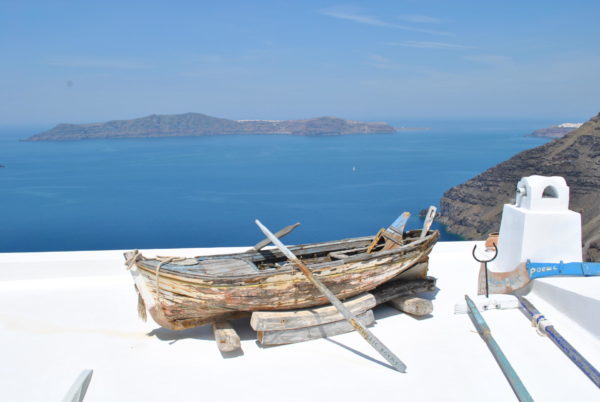 Heaven on earth 
If I had to pick one word to describe Santorini it would be Breathtaking. Known for its beautiful sunsets, it's impossible to take a bad picture in this place. Santorini is a photographer's dream and an Instagramer's paradise!
Santorini is not a party town like Mykonos; in fact of all the places I've been, Santorini is the most relaxing. With the white sugar cube houses, blue domed rooftops, and crystal clear waters how could I not be Zen? No wonder it's the perfect destination for a honeymoon, Santorini is so romantic and dreamy it can make even the worst enemies fall in love.
We stayed at the Aeolos Studios & Suites. It's located in the village of Imerovigli in walking distance to Fira. This hotel has gorgeous views and the staff was very friendly and accommodating. I really recommend it. Our room had an interior Jacuzzi and an outdoor private Jacuzzi. Jacuzzis are common in many hotels in Santorini. We definitely took advantage of it. I really enjoyed the breakfast; I'm still craving the Greek yogurt with honey.
There's a great selection of restaurants nearby. We had our first lunch in Avocado, the fried fish was delectable; we liked the food so much we ate there twice. Less than a block from our hotel we found an excellent restaurant, La Maison. I was so impressed by the food and the service. The view from the restaurant is incredible. The dining room is an open terrace so it gets chilly at night, I was very thankful they offered me a shawl. The food was spectacular, I had the filet mignon and my husband had the lamb shank, both amazing. The house wine is excellent as well. Again we loved it so much we dined in La Maison twice. Reservations are a must.
My favorite restaurant was Floga. Located in Oia; this restaurant gets an A+ on presentation. I really enjoyed the fried calamari and the octopus was divine. Santorini is a great place for foodies especially seafood lovers. Overall I will say Santorini is not a budget friendly place but this trip was worth every penny. I can't wait to go back!